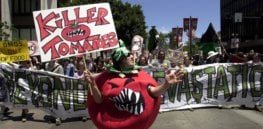 The bizarre QAnon conspiracy theory that has swept the nation and embedded itself in our political discourse is a prime ...
After 30 years, AquaBounty's genetically engineered (GE) AquAdvantage salmon may be just months away from hitting US grocery stores, making ...
As scientists around the world work at an unprecedented pace to develop a vaccine for COVID-19, anti-vaccine proponents are planting ...
Genetic engineering and gene editing have the potential to radically transform our lives if they can overcome the objections of ...
The opposition to GMOs is based not on scientific evidence, but on personal values and ideology. In effect, the two ...
In 2019, Argentina will begin the commercialization of the first genetically modified drought-and salt-tolerant soybean. This will be a particularly ...
Synthetic biology has become the new frontier of genetic engineering, promising to radically change the way we make clothes, fragrances, ...
What's a Frankenfood? If science matters, it's not food with ingredients whose genes have been precision modified ...
With the approval of Brazil's fourth genetically-engineered crop--insect-resistant sugarcane--Brazil is emerging as the most genetically innovative developing country ...
Bangladesh's successful application of biotechnology and development of its own GM crops could serve as a model for other developing ...