The widespread use of deception and coercion to sterilize more than 300,000 women and men in Peru during the 1990s is garnering attention with the Quipu project, an 'evolving interactive documentary' set to be completed in 2015. The project allows those affected, mostly indigenous and poor women, to record their stories through using a telephone line and showcases them using a web interface specially set up for this purpose.
The government sponsored sterilization program remained mostly under the radar until recently as the victims did not speak Spanish and had little knowledge of the extent of the program. A BBC News report quoted one of the women affected
After weeks of trying to avoid them, [the woman] was confronted by the nurses again. "I was running away from them," she [said], "but they caught up with me, and got me inside the ambulance against my will." [The woman said] she was driven to a clinic, and told to enter a room. "They ordered me to take off all my clothes. I was afraid and nervous. And I started crying."
Compulsory sterilization is not new in the history of modern civilization. It became widespread in the early twentieth century in the United States as a way to implement then popular eugenic policies as waves of immigrants that established Americans viewed warily flooded onto our shores. The practice was extensively implemented in several countries, and eugenics was supported by many progressives as an 'appropriate' national policy for those concerned about the 'watering down' of the American bloodline. But the eugenics movement took a catastrophic turn in the hands of Nazi Germany before and during World War II.
Although most countries outlawed the use of forced sterilization as a eugenic measure, the practice has continued for other reasons, especially in developing countries. According to an interagency statement by several UN bodies and the WHO,
During the period from the 1960s to the 1990s, coercive sterilization has been used in some countries (including in Asia, Europe and Latin America) as an instrument of population control, without regard for the rights of individuals. A range of incentives or coercive pressures have been employed to secure agreement to sterilization, including offers of food, money, land and housing, or threats, fines or punishments, together with misleading information […] People living in poverty, indigenous peoples and ethnic minorities have been particularly targeted by such programmes […] Moreover, these procedures may be carried out in unsafe and unhygienic conditions, without follow-up care.
The program in Peru was developed in 1990 under the direction of then president Alberto Fujimori. In a period of drastic economic instability, extreme poverty and rising population, the government created a national population policy to reduce high fertility rates prevalent among the poorer, indigenous populations. In theory, the policies adopted dictated that that along with increased awareness about family planning through education and access to contraceptives, voluntary sterilization be provided as an option.
However, ground realities proved to be very different as a majority of the more than 340,000 women and 24,000 men sterilized between 1990 and 2000 were subjected to the operation without consent and against their will.
Despite the evidence from an independent investigatory commission and efforts from various NGOs and activists, Fujimori was not charged with any crime (he was however, imprisoned on other charges).  The former president was defiant and proud about his program:
Fujimori boasted that it dropped Peru's birth rate from 3.7 children per woman in 1990 to 2.7 children a decade later.
Was the program successful in reducing fertility rates?
I used publicly available data on fertility rates (defined as the number of children born per woman) from the World Bank to investigate further. While Fujimori's assertions are mostly true – Peru's fertility rate did decrease from 3.83 in 1990 to 2.93 in 2000–he fails to mention that the program did not accelerate the decline any faster than before. In the decades preceding his program, the rates dropped from 6.31 in 1970 to 5.01 in 1980 and to 3.83 in 1990. The rate of decline stabilized somewhat after 2000, approaching the world average of 2.45 by 2012.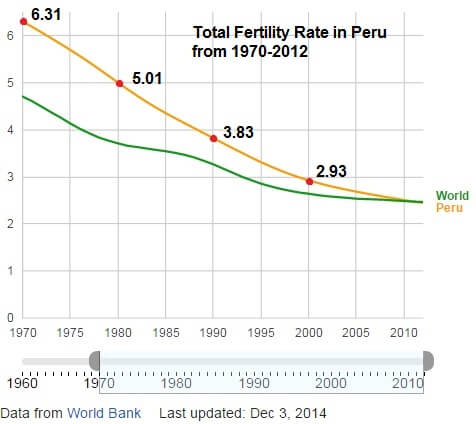 Admittedly, this is a back-of-the-envelope analysis and many complex factors affect fertility rates. But evidence from various studies show that by and large, total fertility rate is tied to a measure known as the Human Development Index and the relationship is particularly strong in developing nations. (The Human Development Index is a statistic that combines three measures of development: life expectancy, education and standard of living.)
Looking elsewhere for evidence, attempts at population control in the world's two most populous nations, China and India, have had questionable results as well. Sociologist Philip Cohen has pointed out that China's one child policy was implemented in 1980 after it saw its most precipitous decline in fertility potentially contributing to a misinterpretation of its effectiveness. However, the policy has produced an aging population and a skewed gender ratio. As a result, China is considering removing the policy altogether.
India's sterilization program has come under fire recently after things went horribly wrong in a government sponsored sterilization 'camp' for women in a remote village. Thirteen women died as a result of botched sterilization operations that might have involved tainted drugs and unsanitary conditions.
Although its coercive sterilization programs of the 70s were scrapped, the government has continued to push rural women to get their tubes tied, even as the fertility rate was steady decline, according to Dhiraj Nayyar, reporting for Bloomberg View.
In fact, India's fertility rates have been declining sharply for reasons that have nothing to do with sterilization programs. In 1971, the Indian average was 5.1 children per woman. That figure declined to 4.5 in 1981 and 3.6 in 1991; it now stands at 2.4, just above the level (2.1) at which a population stabilizes. Over that period, there has been no marked increase in sterilization programs; the government has focused more on building awareness about family planning and disseminating contraception.
What is clear is that improved economic conditions, rather than forced sterilization, has shown to be the most effective way to reduce high fertility rates. "Development," notes Karan Singh, India's former health minister, "is the best contraceptive"
Arvind Suresh is a science communicator and a former laboratory biologist. Follow him @suresh_arvind
Additional Resources: