For a little berry, the genetics of the strawberry are astoundingly complex. Humans have two sets of chromosomes, making inherited traits such as eye color relatively easy to predict. The modern strawberry is octoploid — eight sets of chromosomes — and has a correspondingly huge increase in possible combinations that are expressed in qualities like flavor, size, color, and firmness.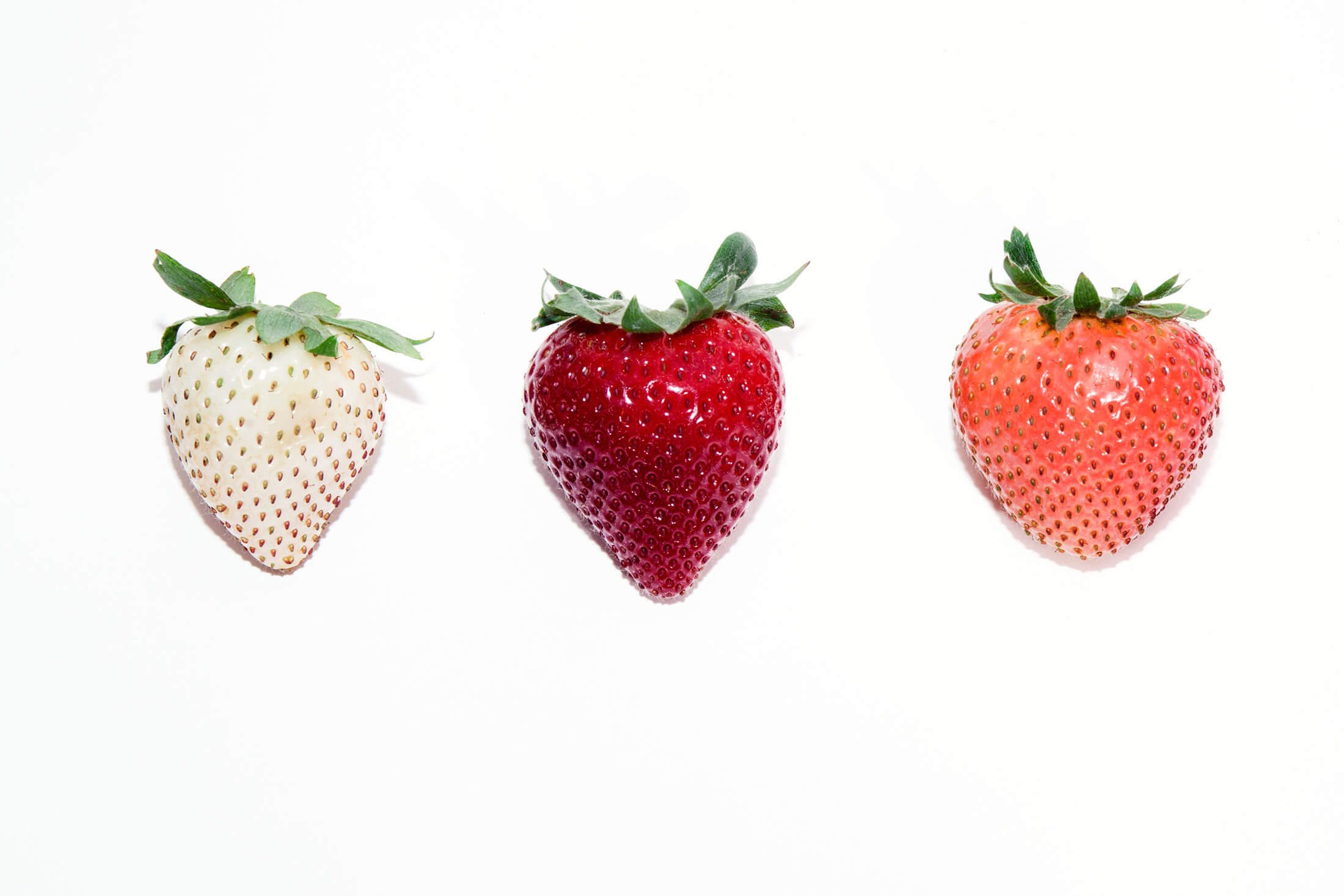 Phil Stewart, the principal scientist for breeding at the strawberry giant Driscoll, starts a new breed by crossing two parent plants in a greenhouse. When the new plant is large enough, it sends out tendrils called runners, which Stewart and his staff pin into pots. The runners sink roots and grow into daughter plants that are exact genetic matches. He starts with about 27,000 genetically distinct seedlings growing in the test field in April. About 1 percent of those get replanted for a second year, and fewer still see a second, third, and fourth season in some of Driscoll's other test plots. Just one or two will graduate to testing in commercial fields, and, if all goes well, Driscoll's will name a new strawberry and release it to its farmers.
One of the varieties stands out on looks alone: a white berry with red seeds. White strawberries were once common; to get that color, Stewart used material from the White Carolina, developed in the 1700s. It's one of the oldest varieties for which there is still genetic material, maintained at the U.S. Department of Agriculture's DNA bank in Corvallis, Ore. There are desirable traits associated with white, including resistance to rot and disease. Stewart's white variety — so far unnamed — is about five generations in. Driscoll's sells it in Hong Kong, where there's a market for expensive white fruit. Stewart also used to bring them home when his kids were younger — white strawberries don't leave stains behind the way reds do. Stewart continues his search. He's working with a team to map the strawberry genome and identify genes associated with susceptibility to disease.
The GLP aggregated and excerpted this blog/article to reflect the diversity of news, opinion and analysis. Read full, original post: How Driscoll's Is Hacking the Strawberry of the Future