CRISPR (Clustered Regularly Interspaced Short Palindromic Repeats) is a revolutionary technology that gives scientists the ability to alter DNA. On ...
As archaeologist Yafit Kedar from Tel-Aviv University in Israel was in France enjoying some cave art deep within the ground, ...
As companies hurry to test potential vaccines, the National Institute of Health (NIH) is hoping new bio-engineering techniques to help ...
The Pew Research Center published a fascinating roundup of studies that revealed the opinions of the U.S. public on a ...
To help spread awareness — and cut through the falsehoods, half-truths, and misinformation — here are seven things everyone should ...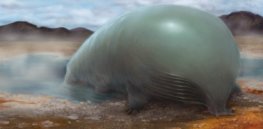 All life on Earth, and thus, all life we've ever observed in the universe, shares a few basic characteristics. Its ...
The paradox of the Boltzmann Brain can really pull the rug from under you if you follow it to all ...
A new study from researchers at the University of Iowa reveals a link between food allergies and autism, though many ...
Millions of years ago, digestion consumed most of the calories we ate. These days, our brain takes 20 times more energy than ...
Rowan Hooper, the managing editor at New Scientist, reports that chronic dream deprivation is damaging our waking hours in numerous ways. … This ...