The Instituto Colombiano Agropecuario (ICA) and the United States Department of Agriculture (USDA) have approved a genetically edited rice resistant ...
Alhough coca crop size fell 9% in 2019 to the lowest level in six years, the capacity to produce cocaine ...
Pedro Arenas is afraid that they'll take flight again. "I expect it could be within the next months," he says ...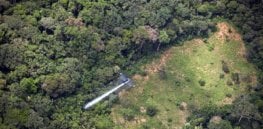 Colombia will have to restart aerial spraying of the herbicide glyphosate in order to destroy crops of coca, the chief ...
This study assesses the economic and environmental impacts that have arisen from the adoption and use of genetically modified (GM) ...
A cruel twist of genetic fate brought Alzheimer's disease to a sprawling Colombian family. But thanks to a second twist, ...
The Colombian Agricultural Institute (ICA) has just authorized the planting of the country's first homegrown GMO corn variety. The seeds ...
A fungus that has wreaked havoc on banana plantations in the Eastern Hemisphere has, despite years of preventative efforts, arrived ...
In a long-feared development, an extremely damaging disease of bananas has apparently reached Latin America. Late last week, the Colombian ...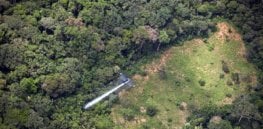 A judicial ban on aerial spraying of the herbicide glyphosate to eliminate coca crops should be modified, Colombia's President Ivan ...
A team of Colombian scientists is working on the development of transgenic sacha inchi, a plant in the Amazon rich ...
The Colombian government faces 273 lawsuits stemming from damages to crops, land and water caused by the spraying the herbicide ...
Remember the Gros Michel banana? If you're under the age of seventy, you probably don't. That's because in the 1950s ...
Latin America is a vital region in the global production of genetically modified (GM) crops, with Brazil and Argentina ranked ...
GM crops saved water, reduced greenhouse gas emissions and provided farmers and the rest of Colombia with a variety of ...