The public still accepts some blatant untruths about biotechnology, food safety, and sustainability ...
In a confidential report, the cinematographic distribution company 2iFilms recounts its misadventures concerning the broadcasting of the documentary Food Evolution ...
The opposition to GMOs is based not on scientific evidence, but on personal values and ideology. In effect, the two ...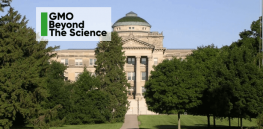 Ruth MacDonald, PhD, Author, Professor and Chair, Department of Food Science and Human Nutrition, Iowa State University, and Interim Senior ...
Despite claims by anti-GMO activists who say crop biotechnology mostly benefits big corporations, African farmers and poor people are the ...
One of the more surprising reactions to the documentary--and disappointing to scientists--came from organic and agroecology supporters who called it ...
Food Evolution director Scott Hamilton Kennedy talks with the Genetic Literacy Project about the film's funding, and challenges the "ruthless ...
Oscar-nominated director talks with the Genetic Literacy Project about the reaction his documentary has received, both from GMO critics and ...
Michael Pollan, Marion Nestle and other anti-GMO activists have complained that the documentary Food Evolution is nothing more than a ...
Change is hard. But a skeptical New York City crowd's reaction to Food Evolution, a new documentary about GMOs, provides ...
Scott Hamilton Kennedy, director of Food Evolution, addresses baseless claims that new GMO documentary is "Monsanto propaganda" ...
Food Evolution, a documentary about the GMO debate, brings pro-science perspectives into the mainstream and casts a harsh light on ...