[A] small fragment of the genetic code that has been inherited by modern humans from Neanderthals could carry the secret ...
Adam Rutherford explains how to argue with a racist, hunting for the ghosts in the human genome, and recreating the ...
Modern Africans have an average of 17 megabases of Neanderthal DNA in their genomes, according to an analysis published [January ...
Here's a look back at some of the most significant archaeological and anthropological discoveries of the past decade that fundamentally ...
University of Washington geneticist PingHsun Hsieh and his colleagues found Neanderthal and Denisovan versions of some genes in the genomes ...
Mounting evidence suggests Neanderthals also had a habit of inbreeding, or conceiving with close relatives. Several studies have now reported ...
Neanderthals, modern humans' closest evolutionary relatives, have been extinct for thousands of years. But due to interbreeding between the two ...
[T]ens of thousands of years ago, modern humans encountered Denisovans – and had sex with them. It is a startling ...
Neanderthals cared for their sick and wounded, and new research suggests this well-documented behavior was more than just a cultural ...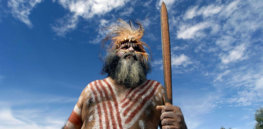 Recent genetic research suggests that Aboriginal Australians have lived on their island continent for at least 50,000 years (with some ...
In a remarkable twist in the story line of early human evolution, scientists have announced the discovery of "Denisova 11"—a ...
New research shows that Neanderthals were able to start fires using stone tools. The findings, published in the journal Scientific Reports, present ...
A new cache of artifacts found in a French cave are evidence of a rich Neanderthal culture and a reminder ...